The Lindisfarne Story Comes To Kinross In March 2019
The Lindisfarne Story comes to Backstage at the Green Hotel Kinross on Thursday 21st March 2019 at 8.00pm for Mundell Music.
Tyneside group Lindisfarne – Alan Hull, Rod Clements, Ray Jackson, Simon Cowe & Ray Laidlaw – exploded onto the UK music scene in 1970 with a string of unforgettable songs.
The likes of Lady Eleanor, Meet Me on the Corner, Fog on the Tyne and Run For Home quickly established the band as the standard-bearers for acoustic-based rock. Their sparkling songwriting cut through the prevailing pop and glam sounds of the 70's – international success followed, and Lindisfarne's music continues to be heard on the radio today.
In this entertaining show, former members Billy Mitchell and Ray Laidlaw tell The Lindisfarne Story from the very beginning: hear them perform acoustic versions of the band's classic songs, and relive moments from the band's history as they share 'behind the scenes' stories illustrated with archive video and stills.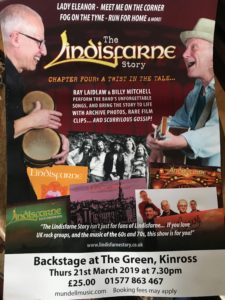 The Lindisfarne Story isn't just for fans of Lindisfarne: if you love UK rock groups and the music of the 60's and 70's, this show is for you!
Ray Laidlaw
As a founder member of Lindisfarne, Ray was right in the middle of it… even before the band had been thought of. As a young lad with a drum kit and dreams of rock and roll, he set about hooking up with like-minded pals, setting him firmly on a course that would see him achieve success in a band with a #1 album, and a varied life in the music business. Thankfully, he kept all the best bits in a diary: and there's a lot of them, which came in very handy when THE LINDISFARNE STORY was first mooted…
Billy Mitchell
Like Ray, Billy was also there when it all began. Close friends since the early days of Rock'n'Roll, Billy has never been far from the Lindisfarne action. When the band split temporarily in 1973, he teamed up with founder members Ray, Rod Clements and Si Cowe to form much-missed folk-rockers Jack the Lad. He eventually joined the band at the third time of asking in 1996, fronting the band until it split in 2003. His experience as both an outsider and insider gives a warm, unique perspective to THE LINDISFARNE STORY.