Man Return To Backstage In February 2019
Man play Backstage at the Green Hotel Kinross on Friday 1st February 2019 at 9.00pm for Mundell Music.
Man are a rock band from South Wales whose style is a mixture of West Coast psychedelia, progressive rock, blues and country-rock. Formed in 1968 as a reincarnation of Welsh rock harmony group 'The Bystanders', Man are renowned for the extended jams in their live performances. The band reformed in 1983, with a line-up of Micky Jones and Deke Leonard on guitars, Martin Ace on bass and John 'Pugwash' Weathers (formerly of Gentle Giant) on drums.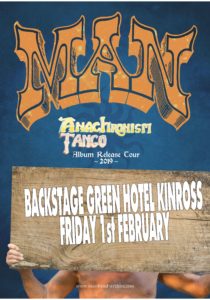 Prolific would be an understatement as Man have 409 releases on 71 labels, in 24 countries under their belt at the last count in Feb 2010. Man are one of the most hardworking progressive bands in Brittan having toured year in year out since the late 60s except for a short break between '78 and '83. The band are very popular in progressive circles having played many shows with the likes of Hawkwind, IQ and occasionally with Marillion.