Choose an upcoming gig and you will see why Backstage at the Green Hotel Kinross is a firm favourite amongst music fans from Scotland and indeed England as well. Mundell Music also display a vast collection of Rock & Roll Memorabilia around the venue which has to be seen to be believed. Visit our Gallery to see some of the Artists who have played for us. All ticket transactions are taken securely by TicketWeb.
EMS PRESENTS
Starlite Campbell Band
with
Starlite Campbell Band
Thu
January 23, 2020
8:00 pm
GMT
(Doors:

7:00 pm

)
Backstage at The Green Hotel ,
The Muirs, Kinross
(
map
)
All Ages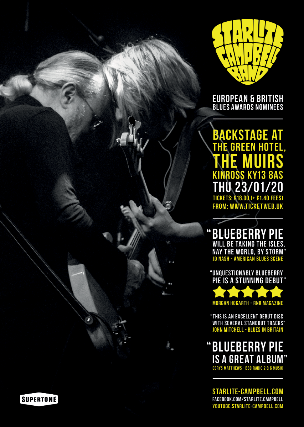 GBP18.00
European blues awards nominees the Starlite Campbell Band is husband and wife Suzy Starlite and Simon Campbell working as a four piece with some of the world's finest musicians.
The band is steeped in British blues – think early Led Zeppelin, The Faces and Peter Green's Fleetwood Mac. With contemporary original songs inspired by real life and real people, they have a sound and vibe reminiscent of the mid 60's to early 70's - the halcyon days of music.
Starlite and Campbell, who married after a whirlwind musical romance, released their debut album 'Blueberry Pie'to rave reviews worldwide and a prestigious nomination for Best Album in the European Blues Awards.
"Unquestionably Blueberry Pie is a stunning debut" | 5* - Morgan Hogarth, Rock n Reel Magazine
With extensive international radioplay charting top 10 in the UK, Australia, The Netherlands and American Blues Charts and over 50 four and five star reviews worldwide, the Starlite Campbell Band leave an indelible impression on audiences of all ages and musical backgrounds.
From Suzy's addictive, fun-loving bass groove and thunderous tone to Simon's explosive vocals and fretwork, the band is joined by keyboard maestro Jonny Henderson on Hammond/Wurlitzer (Robben Ford / Matt Schofield) and shuffle-master Steve Gibson on drums (Chris Farlowe / Larry Garner).
"Just as the Rolling Stones are making huge waves with their 30th studio release, Blue & Lonesome, along come a couple of seasoned musicians who bring back the sound of early UK blues, to near perfection." | JD Nash - American Blues Scene, USA
The art of the song is everything and Starlite and Campbell fly in the face of disposable music - writing, recording and producing their work and then releasing on their independent label Supertone Records.
"Blueberry Pie is a great album" | Cerys Matthews, BBC Radio 2 & 6 Music
The band recently headlined the Saturday night at Wangaratta festival of jazz & blues in Australia where they were joined by guest keyboard player Clayton Doley and quickly followed by a successful two week tour in the UK to great reviews.
Starlite Campbell Band