Choose an upcoming gig and you will see why Backstage at the Green Hotel Kinross is a firm favourite amongst music fans from Scotland and indeed England as well. Mundell Music also display a vast collection of Rock & Roll Memorabilia around the venue which has to be seen to be believed. Visit our Gallery to see some of the Artists who have played for us. All ticket transactions are taken securely by TicketWeb.
MUNDELL MUSIC PRESENTS
Flying Burrito Brothers
with
Flying Burrito Brothers
Sat
January 25, 2020
9:00 pm
GMT
(Doors:

8:00 pm

)
Backstage at The Green Hotel ,
The Muirs, Kinross
(
map
)
All Ages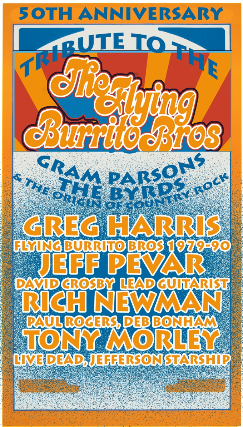 GBP30.00
Sin City (May 1, 2019) ::: The 50thAnniversary All-Star Tribute to THE FLYING BURRITO BROS., has finalized its line-up of legacy musicians, culled from The Who's Who of Country Rock, Americana & UK classic rock music genres. This is nothing less than a deep dive into the origins of contemporary legends like The Eagles, their forbears The Byrds, and their descendants – The Flying Burrito Bros.- founded in 1969 by Gram Parsons, Bernie Leadon, Chris Hillman, Sneaky Pete Kleinow, Chris Ethridge and Michael Clarke. Parsons, whose early death & Joshua Tree cremation are the stuff of rock myth, resurrected The Byrds with his dynamic country & western phrasing on 1968's seminal & influential "Sweetheart of The Rodeo," following the departure of David Crosby & Gene Clark. Parsons then left with Hillman to form The Flying Burrito Bros.

The band continued through the 1970s, never capturing the Gram Parsons front man dynamic, until 1979 when singer/ songwriter & multi-instrumentalist Greg Harris was 'discovered' by stalwarts Kleinow, & then Burritos members (Byrds') bassist Skip Battin & Gib Guilbeau. Greg's performance of classic Parsons' material was uncanny. This era of the band, mostly intact, continued into the 1990s.

Greg Harris, multi-instrumentalist, songwriter and vocalist arrived in LA signed to RCA Records in 1977. He worked a short stint in the infamous Palomino Club house band. He did session work for everyone from The Everly Brothers, Alabama & Gene Parsons, joining The Flying Burrito Bros. in 1979 and recorded two projects, Live in Tokyo in 79' and The Burrito Bros "Live In Europe" in 86'.

Jeff Pevar, sought after guitarist, multi-instrumentalist, vocalist - is possibly best known for his touring & recording work with sixties music icons, David Crosby, CSN, Phil Lesh & Friends, Joe Cocker, Ray Charles, Jazz is Dead & Jefferson Starship, with whom he played bass for the Woodstock 40th Anniversary Tour. He also supported Bette Midler, Rickie Lee Jones and many others.

Tony Morley, bassist - has amassed such a heady range of credits, it would be impossible to list all of them. Notably, he has toured/ recorded in the U.S., Japan, Germany, Italy, France, The Netherlands, Luxembourg, Scandinavia with Jefferson Starship and Live Dead '69

Richard Newman,drummer/percussionist is one of Britain's most in demand musicians. He recently completed a massive tour with Paul Rogers & Jeff Beck. He has also toured late greats Alvin Lee, Rory Gallagher, Jefferson Airplane's Paul Kantner in Jefferson Starship, and he continues with Deb Bonham and Live Dead '69.
Flying Burrito Brothers