Choose an upcoming gig and you will see why Backstage at the Green Hotel Kinross is a firm favourite amongst music fans from Scotland and indeed England as well. Mundell Music also display a vast collection of Rock & Roll Memorabilia around the venue which has to be seen to be believed. Visit our Gallery to see some of the Artists who have played for us. All ticket transactions are taken securely by TicketWeb.
EMS Presents
Marrakesh Express
with
Marrakesh Express - a Tribute To Crosby, Stills & Nash and Young
Fri
October 25, 2019
9:00 pm
BST
(Doors:

8:00 pm

)
Backstage at The Green Hotel ,
The Muirs, Kinross
(
map
)
All Ages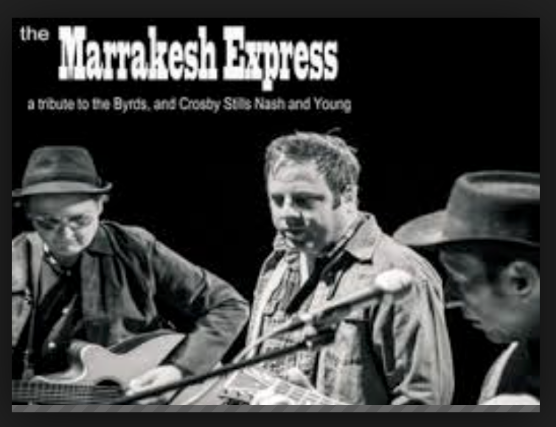 GBP20.00
A live performance of music from Crosby Stills Nash & Young: remarkable music from a remarkable time.
The Marrakesh Express are John Butler, Rick Wilson, and Adam Ellis. Together these three great voices deliver a note perfect performance of some of the finest harmony singing in all music. Telling the story of the formation of this super-group and including songs from The Hollies, The Byrds and Buffalo Springfield, the band take the audience back to a time of protest, revolution, dropping out, and making great music.
This is the only show of its kind, and a truly brilliant night's entertainment.
"The Byrds for me are more important than the Beatles, and David Crosby is the last word in rhythm guitar playing." John Butler
"If there are any better bands than this in Britain today I'd like to hear them." The Evening Standard.
"It's probably blasphemous to say this, but I think I prefer them to the original!" Brett, Owner of Kitchen Garden Café, Birmingham
Marrakesh Express - a Tribute To Crosby, Stills & Nash and Young
A tribute to the Byrds and Crosby, Stills, Nash and Young. Take the classic music of the Woodstock hippy era when American music delivered its response to the British Invasion. Marrakesh Express mix it all up with jangling six string guitars, cut glass harmonies and you have one of the greatest West Coast shows ever.
Featuring 'Eight Miles High', 'Turn Turn Turn', 'Mr Tamborine Man', 'Wooden Ships', 'Déjà Vu', 'Helplessly Hoping', 'Guinnevere', 'Woodstock', 'Our House', 'Suite: Judy Blue Eyes', 'So You Wanna Ba Rock & Roll Star', 'Almost Cut My Hair' & 'Marrakesh Express'!