Eric Bell and His Trio Play Backstage Kinross
The Eric Bell Trio play Backstage at the Green Hotel on Tuesday 12th March 2019 at 8.00pm for Mundell Music.
THE ERIC BELL TRIO
Eric Bell is probably best known for his early work with THIN LIZZY which set the band onto the world stage.
His blistering guitar work on both "Whiskey In The Jar" and "The Rocker" is heralded as bordering on genius and Thin Lizzy's first three albums are now being recognised as pure gems …. so much so that they have recently been re-mastered and re-released.
Since his departure from 'Lizzy, Eric has carved out a successful solo career. Last years highly successful solo release, EXILE, was critically acclaimed and the new album "Waiting At A Bus Stop" is also set for the same success.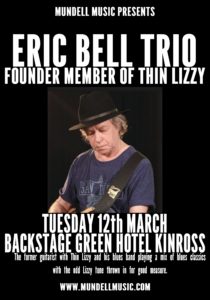 Since 2015 he has been touring with two more r'n'r veterans namely Dave Wintour and Romek Parol both of whom have worked with the likes of Roger Daltrey, Rik Wakeman, The Pirates, Chicken Shack, The Pretty Things …. the list is endless.
2018 will see them touring Ireland, UK and Europe playing songs from the early 'Lizzy years, choice cuts from the new albums along with a few blues classics.