Chris Stills Plays Backstage Kinross In April
Chris Stills plays Backstage at the Green Hotel Kinross on Wednesday 17th April 2019 for Mundell Music.
Chris Stills will release a new album, his first in over 10 years, 'Don't Be Afraid' in the UK on September 7, 2018 via Rive Gauche Music (Kobalt/PIAS). The album – the follow-up to 2006's self-titled release – follows Stills' recent con- tribution to the Original Motion Picture Soundtrack for the Oscar-winning I, Tonya and his co-production of the annu- al 'Light Up The Blues' charity benefit in Los Angeles, which this year saw Stills perform alongside the likes of Neil Young, Patti Smith, Beck and Burt Bacharach.
An album preceded by a decade-long gestation period, 'Don't Be Afraid' finally draws together much-anticipated new material from Stills – with some tracks demo-ed as early as 2013 – following a prolonged period of emotional turbulence. Raised between California and France (where he began writing songs whilst at The American School of Paris, also befriending one-time bandmate Adam Cohen, son of Leonard) the child of CSNY's Stephen Stills and Véronique Sanson, Chris returned to his former home of Los Angeles in 2010 amidst the breakdown of his marriage to the mother of his two young daughters.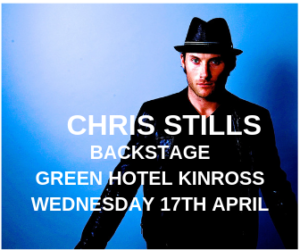 The preceding years spent based in Paris had seen Stills successfully juggle a burgeoning musical career (following in his father's footsteps he signed to Atlantic Records, who issued his debut solo album '100 Year Thing' in 1998) alongside critically-applauded appearances as an actor. Making his debut in 2009 playing Julius Caesar in top- grossing French musical Cleopatre – The Last Queen of Egypt, Chris went on to also appear opposite Mélanie Lau- rent in Requiem For A Killer, later landing a foot firmly in both camps when his contributions to the long-running U.S. hit series of Shameless led to a regular guest spot for Stills across two seasons of the show.
Seeking solace following the considerable personal disarray that stems from divorce, Stills went on to seek out pre- vious collaborators including Grammy-nominated, 3-time Juno winning producer Dan Burns and sometime band- mate Zac Rae (Death Cab For Cutie), also reconnecting with on-off touring buddy Ryan Adams. The fruits of the sub- sequent writing & recording sessions are borne out in 'Don't Be Afraid', a set of 11 open-hearted songs that are ar- guably Stills' most assured, self-aware work to date. Speaking about the album's culmination, Stills says; ""There was a lot of life that had to happen – a lot of things had to go right for this record to see the light of day. For as much as there's a slight embarrassment in regards to how long it took, I can't knock myself, because I went through quite a bit. Like anybody else, I've had my ups and downs in this business and personally as well, but I never stopped do- ing what I do. Some stars just needed to align. The songs themselves are an honest chronicle from various moments of my journey to now."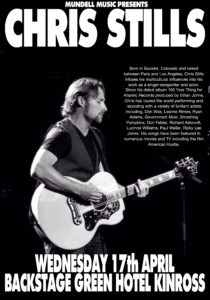 Musically, 'Don't Be Afraid' thrums with the ability to draw from a rich well of influences with a lightness of touch that keep it from becoming beholden to any. Glistening album opener 'This Summer Love' summons the spirit of Harry Nilsson, informed by a recent trip Stills made to Ibiza, the view of a childhood holiday mainstay newly refracted by his return to the island as a single father. Elsewhere, 'Hellfire Baby Jane' rides on a spooky roots sensibility to trans- portive effect, and barreling Ryan Adams-co-write 'Criminal Mind' – written whilst the pair jammed at Adams' Pax Am studios – crackles both with crunch guitar and a shared affinity for stadium-gazing rock. 'Leaving You Behind' delivers one of the album's most unguarded moments – written directly to Stills' two young daughters, in an attempt to console them by trying to bring hope into a newly broken family.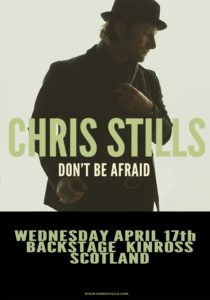 Ultimately, 'Don't Be Afraid''s accessibility lies in its reconciliation of the personal with the universal – the driving 'Blame Game' captures Stills – an impassioned Trump critic – railing in turn both against the White House administra- tion & his own perceived short-fallings, whilst the introspective orchestral pop of the title track took on further poign- ance when Stills came to perform it live in his hometown of Paris in the wake of the Bataclan terror attacks.
'Don't Be Afraid'
1. This Summer Love 2. Hellfire Baby Jane 3. In Love Again
4. Daddy's Little Girl 5. Lonely Nights
6. The Weekend
7. Criminal Mind
8. Blame Game
9. Don't Be Afraid
Leaving You Behind
In The Meantime