Ari And The Alibis Go Backstage Kinross
Ari And The Alibis play Backstage at The Green Hotel Kinross 2019 on Wednesday 10th April at 8.00pm for EMS / Mundell Music.
Infusing Funk, Jazz and Samba with Blues Soul and Rock, Award winning International Touring artists Ari and the Alibis have created a memorable ear-catching sound. Formed in September of 2013 Ari and the Alibis quickly became one of the top acts in their native Tampa Bay music scene, as evidenced by their nomination for best local band in Tampa Bay and Ari for best Jazz vocalist.
Their high energy live show has landed them performance slots at renowned venues such as Skippers Smokehouse, Janus Live and the Tampa Hard Rock Casino as well as many Festivals. They have also performed in New York, Cleveland, Atlanta, Asheville, New Orleans, Los Angeles and Austin. This past summer (2018) they expanded into Canada with concerts in Ottawa and Hamilton Ontario. On their way home they were honored to be guest performers at Victor Woods nature camp Wooten Woods outside of Nashville Tenn.
Their first album "Dirty Little Secret" made it to the last stage of voting for the 2016 Grammy Awards  in two categories: Best Rock Song (Dirty Little Secret) and Best Rock Performance (Dirty Little Secret and Bon Appetit).
Their highly anticipated sophomore release "Home" was released June 15th 2018. An all original 15 track 76 minute long album that captures the versatility as well as the virtuosity of the group. The title track "Home" has already received an award for "Best original song by a local group" in the Bradenton Times "Best of the Bay" and are nominated for best regional band in Tampa Bay's Creative Loafing readers poll of the same name.
2018 has also been a banner your for artist endorsement for the group. After their performance at the 2018 winter NAMM show the group signed an artist deal with Sennheiser North America who provided all microphones for the recording of "Home" as well as in ear monitors, wireless systems and microphones for their live performances. Two months later James Dabone became the first Trombonist to sign an artist deal with Cannonball Instruments.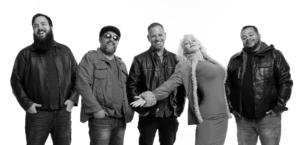 2019 is looking to be another exciting year for the group with friend and international tour manager Michael McGinn planning a tour for them in the UK and a return visit to Canada already in the works.
Don't let music of this magnitude go unnoticed. This is the best kind of medicine that gets into your system and cures the mundane by filling your heart with an appetite for all things awesome"
– Rebecca Hosking Skope Magazine –