Aguilar Blumenfeld Project Feat Barry 'The Fish' Melton
Aguilar Blumenfeld Project Feat Barry 'The Fish' Melton play Backstage at the Green Hotel Kinross on Thursday 9th August 2018 at 8.00pm for Mundell Music.
SAN FRANCISCO PSYCH BLUES SUPERGROUP
BARRY "THE FISH" MELTON is one of the world's all time great psychedelic blues guitarists. In 1965, together with "Country Joe" McDonald, he co-founded Country Joe and the Fish -initially as a duo . However, soon the duo became a full band, and Country Joe and the Fish released the astonishing debut album "Electric Music For The Mind And Body" in 1967.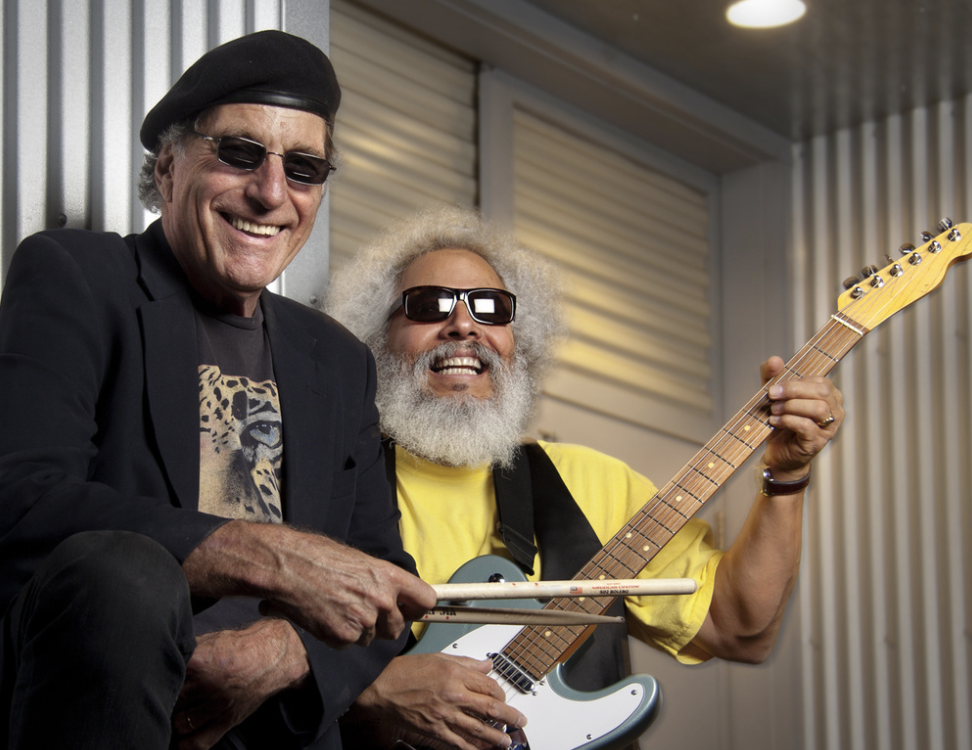 Barry appeared on all the Country Joe and The Fish recordings and he also wrote many of the songs that the band recorded.
Country Joe and The Fish appeared at the Monterey Pop Festival (1967) and Woodstock Festival (1969) and are featured in the films made about the festivals. Barry also appears with Country Joe and the Fish in the neo-Western film, "Zachariah", and other films in which they appear. He also wrote the soundtrack for the Roger Corman classic, "GAS-S-S", and also appeared in "The Omega Man" (1971) and "More American Graffiti" (1979).
Barry was a founding member of The Dinosaurs, a San Francisco super group of 60s veterans which at various times also included Peter Albin and David Getz (Big Brother and the Holding Company), John Cipollina and Greg Elmore (Quicksilver Messenger Service), Papa John Creech (Hot Tuna and Jefferson Starship), Spencer Dryden (Jefferson Airplane and New Riders of the Purple Sage), Robert Hunter (lyricist and sometime performer for The Grateful Dead ), Jerry Miller (Moby Grape), and David LaFlamme (It's a Beautiful Day).
Barry toured the U.K with It's A Beautiful Day on their U.K comeback tour of 2010, and has toured the U.K many times since to great acclaim.
DAVID AGUILAR (guitar) has played with Bo Diddley, Bonnie Raitt, John Lee Hooker, Big Brother & The Holding Company, Paul Butterfield, Jackson Browne, Chuck Berry, Norton Buffalo, Lester Chambers and many more.
ROY BLUMENFELD: Roy founded The Blues Project in 1965, with Al Kooper (who that year played on Bob Dylan's "Like A Rolling Stone"). After appearing at the 1967 Monterey Pop Festival, Roy formed Seatrain. Roy then worked with Grateful Dead's Robert Hunter before founding San Francisco Nights – original members of The Steve Miller Band, Big Brother & The Holding Company, and Country Joe and The Fish. They folded in 2014 after Big Brother & The Holding Company's Sam Andrew died.
STEVE BROWNING (bass) joined UK 60's legends The Pretty Things in the '80's. He also played with Ronnie Spector (The Ronettes), David Gilmour (Pink Floyd) and in bands with Brendan O'Neill (Rory Gallagher), Dave Mattacks (Fairport Convention), Robin Goodridge (Bush), and Nigel Glockler (Saxon). He played on U.K tours for the Californian band It's A Beautiful Day, including the 2011 Isle Of Wight Festival.